6 Notorious criminals that will never be forgotten in Nigeria
There has been a lot of criminals in the country since way back. However, some criminals took it to another level as the act of criminality was an art for them. It was as if they studied it as they became masters in it, becoming a terror to the entire nation. Have you ever heard of Anini and Shina Rambo? Well, they are a few on the list as I will be telling you about 3 notorious criminals that would never be forgotten in the history of Nigeria.
Some people may have not been born or were still kids when these criminals were in full swing. You can go on to ask parents, guardians or grandparents about them.
1. Lawrence Nomanyagbon Anini
He was popularly known as "The Law" or simply called "Anini". He was the greatest criminal and armed robber in the history of Nigeria. His name would never be forgotten in a hurry, especially for those who grew up in the 80s. He reigned in Edo and Delta states known as Bendel then. He had a gang and they began as robbers, car snatchers and raiders. In fact, some policemen supplied Anini with guns and information. Anini killed a lot of people including policemen while robbing and he became a terror as his case was discussed amongst the government then. To cut the long story short, he was later caught and executed on the 29th of March, 1987.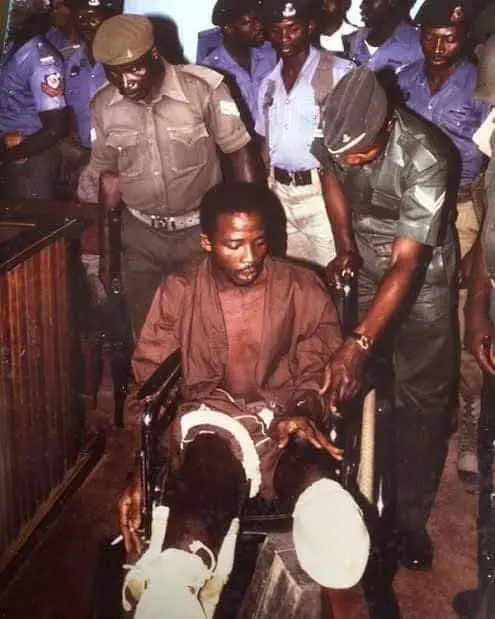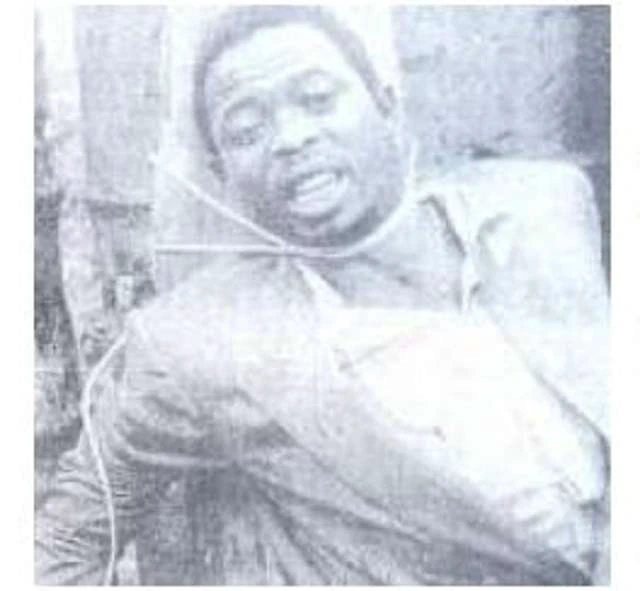 2. Dr. Ishola Oyenusi
He would have been on the top of this list as he was the first and widely known armed robber in Nigeria. However, Anini surpassed him. Oyenusi reigned in the 70s and was known for disappearing. People said bullets could not penetrate his body and that he could disappear to escape being caught. Most people also believed that he used charms in this effect. He was from Osun State and was later executed on the 8th of September in 1971. He was smiling as he was shot to death.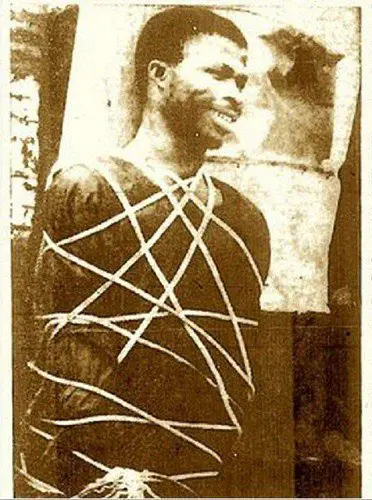 No one believed that he could ever be caught. He didn't finish secondary school but called himself a doctor.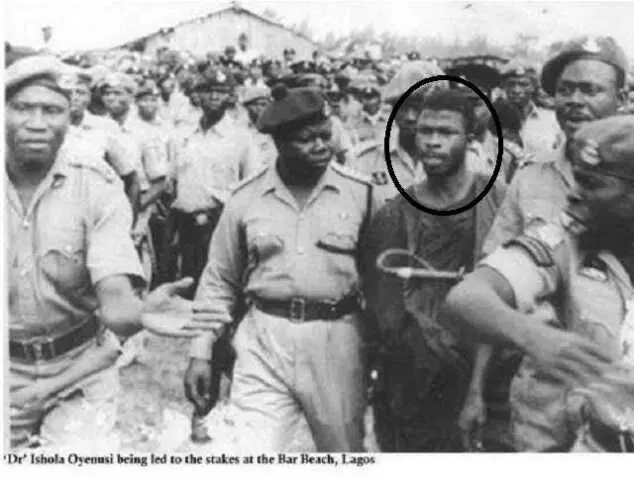 3. Shina Rambo
For years to come, the name "Shina Rambo" would keep ringing in the ears of Nigerians that witnessed him. In the era of Shina Rambo, people lived in terror and fear of their lives. He was from Abeokuta and the brain behind majority of the crimes in the West. He killed and robbed without mercy. Even the police were afraid of him as he was said to be invisible most times. Rambo was a hardened criminal and killer.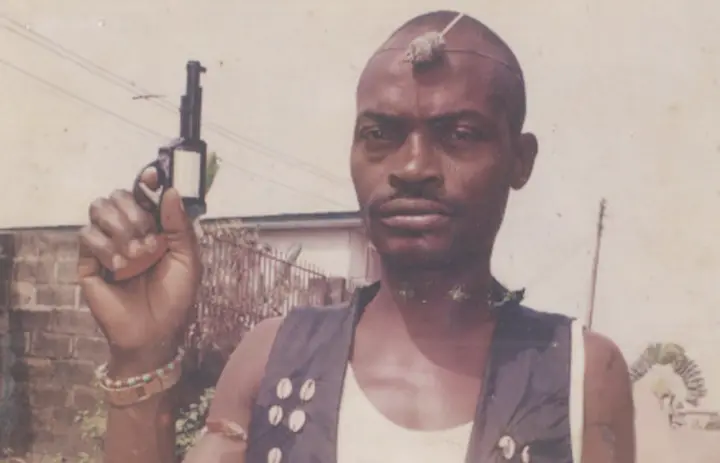 Some people believe he is a myth because he did a lot of unbelievable things. He had 9 herbalists make him charms and proceeded to kill them all. He did not want anyone knowing his secret. It is said that he is now a pastor known as Matthew Oluwanifemi as he was just sentenced to 11 years in prison.
Abiodun Egunjobi, alias Godogodo, was the modern day version of Lawrence Anini. The one-eyed monster was one of the deadliest armed robbers Nigeria ever had.
4. Godogodo
The 36-years-old Godogodo rose from being a slum boy to the leader of a gang that defied all reasons, struck with precision, killed without mercy and terrorized Lagos and the south-west with reckless abandon.
Before his arrest on August 1, 2013, Godogodo gave the Lagos State Police Command so much headache for 14 years, so much so that on the day he was arrested, the command erupted in joy: at least its men would be safe from his guns.
In fact, he was at a time, on the top of the Most Wanted list of the Command with several Police Commissioners assigning the toughest of cops on his trail.
Godogodo began his voyage into the deadly world of crime after spending seven years in prison for what he considered a minor offence.
As a scrap dealer in the slum of Gatankowa, Abule-Egba, he was involved in a fight and the police arrested him. With no one to bail him out, Godogodo was sent to jail and in his mind, he believed his going to prison was an injustice and blamed the police for it.
While in prison, he became acquainted with more deadly armed robbers and formed an alliance with them and took the time to understudy them. When he finally left prison, he decided that he was going to deal with the police for sending him to prison for seven years.
The Lagos State Police Command led by the then Commissioner, Umar Manko, mandated the Special Anti-Robbery Squad (SARS), led by Superintendent of Police, Abba Kyari, to bring an end to the reign of Abbey Godogodo and that began intensive investigations which led to the capitulation of his empire.
Manko was given direct orders by the then Inspector General of Police to make sure the Godogodo phenomenon was quashed at all cost.
5. Isiaka Busari aka Mighty Joe
Shortly after the notorious kingpin of armed robbery in Nigeria, Ishola Oyenusi was executed, his second in command, Isiaka Busari, better known as Mighty Joe, took over the scene and became the defacto king of the underground.
Nigeria was still coming out of the pangs of the civil war and with the death of Oyenusi, they thought the era of violent crimes had been nipped in the bud but little did they know that another hoodlum would spring up and become deadlier.
In Mighty Joe's gang were ex-soldiers who were demobilized and with their know how in the handling of guns and other deadly weapons, they held the nation, particularly the South West, to ransom, robbing and killing with reckless abandon.
Mighty Joe was even deadlier than Oyenusi and was known to operate at anytime he felt like and taking a human's life was nothing to him.
For many years, he constituted himself a big terror to the people of Lagos, the then Federal Capital, especially around Mushin where he lived and practiced his trade.
He strode the hemisphere like a colossus from 1971 when his boss was killed, till 1973 when he was nabbed after robbing a hotel bar attendant, Michael Osayunana, of the sum of ₦10.
6. Evans
Chukwudi Dumeme Onuamadike, popularly known as Evans, is an alleged kidnapper and armed robber who came into limelight after being arrested in 2017. Onuamadike hails from Nnewi in Anambra State. He is also referred to as "The Billionaire Kidnapper" because the Nigeria Police Force (NPF) believes he is one the richest kidnap kingpins in the history of Nigeria. The Inspector General of Police Special Intelligence Response Team (IRT) of the Nigeria police force described Evans as a very smart, crafty, and intelligent kidnapper who evaded arrest for four years despite being on the most wanted list in three states (Lagos State, Edo State, and Anambra State).
Evans is currently undergoing trial on 52 charges of multiple murders, armed robberies, kidnappings, unlawful possession of firearms, unlawful possession of ammunition, conspiracy, among other charges.
COMMRADIC 🆎 NSO NSO